3rd Class suggestions for work March 30th-April 3rd:
Hi 3rd class and Parents/Guardians,
I hope you  are all keeping well and are helping out at home.
Here are some more work suggestions that the children can continue on with if you wish. They are only suggestions so please feel free to do what works best for you and your family right now.
English:
Remember reading is really important so try to make sure you are reading everyday and if you are running out of books to read you can use e-books on library online if already a member or join now here:
https://www.librariesireland.ie/join-your-library.
Here are other sites with online reading material that you might like also:
https://www.makeuseof.com/tag/10-websites-reading-childrens-stories-online/
Keep up your Read at Home reading
Comprehension: Word Wise pg 52/53 King Midas -read and answer the questions Act A + B + C+ D
Writing – we had been looking at narrative story writing so continue by writing a new narrative piece. Remember to plan your story first by doing a brainstorm -make the movie in your head .Think of the type of story you are writing, the setting, the characters, the main problem /exciting part and how this will all end? Illustrate it after.
Spelling – continue with your Spelling Workbook Easter words Units and the interactive games online. Get someone to test you when you're finished – write them down
Hand writing – continue Go with the Flow carefully.
Maths:
Keep revising your tables and continue onto the next week in Tables Champion.
Continue going over our tables songs and check that you are singing the correct numbers – write them out.
Play card games where you add, subtract or multiply two cards and the first to call out answer wins the pair- person with most card at the end wins.
Measures: Time
Look at the clock and discuss the hands and numbers. Talk about how many minutes are in an hour, how many hours are in a day. What direction do the clock hands turn? How many minutes does it take for the longer minute hand to move from one number to the next?
Make your own cardboard clock (a cereal box) and put the numbers in the correct places, add the minutes past to it on the outside of the clock. This will help you to get more familiar with the clock. Use this to help you make your own: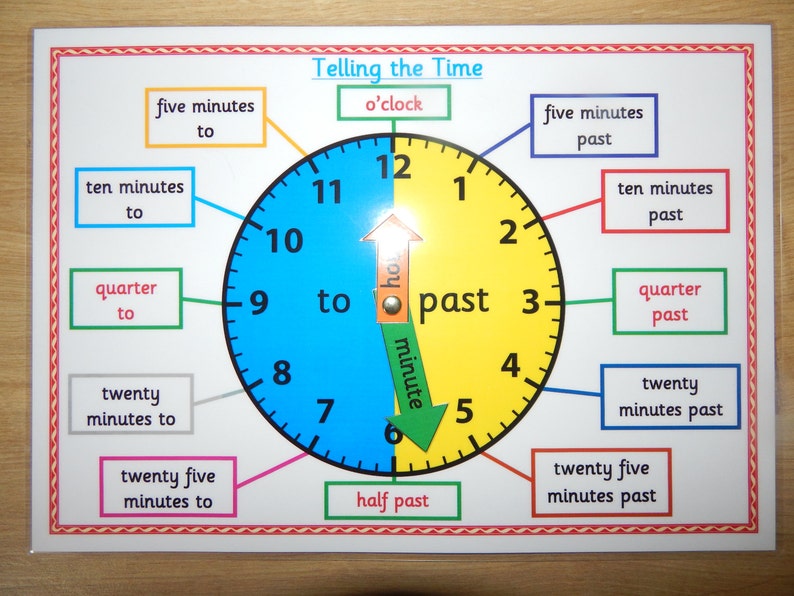 https://www.youtube.com/watch?v=8RJzoyIVzV8   This is for general clock (analogue) https://www.youtube.com/watch?v=HrxZWNu72WI   This might help with the digital clock work
Remember when the minute hand gets to 6 (half past) then it starts to run to the next hour so we say how many minutes it will take to get to that hour.
Try to show different times on your clock and read the time when possible throughout the week
https://www.twinkl.ie/resource/t-n-3077-blank-clock-faces – practise drawing the hands in the right places for lots of different times. Try to draw your own clock faces if you can't print this out
Digital clocks simply show the hour it is and the minutes gone past
eg.  3:25  – 25 past 3, 4:40,    7:50.  This is a bit different to the analogue clock
Try Cracking Maths pg 161, 162 – see how you get on
Maths Mate pg 42 also does Time if you want more.
Irish:
Abair liom pg 88/89 – súil siar  – revision of some of our phrases, verbs and numbers pg 84/ Look back to help you . Remember our verbs on pg 182/183 will help too. Use your Irish dictionary also.
Watch TG4 Cúla4 which is also online
If you can't get your book then try writing some sentences using our:
Briathar(verb)     Cé?(who)      Cad?(what)     Cén áit?(where)   Cathain?(when)
Chuaigh              Séan                ag snámh        sa linn snámha      inné
Try : Chuaigh(went)   Chuir( put)   Bhris(broke)   Bhí(was) D'ith (ate)
SESE:
Start a nature diary and record any birds, animals, sounds or flowers that you see/hear. See if you can find out the names of them and describe them. Include where you saw/heard them. Draw pictures as part of your records.
Record the weather on each day also.
Music: Keep practising your ukulele
Art:
Draw and design your own Easter eggs using pattern and colour. You could also try to paint some larger stones to look like eggs and hide them in the garden for an egg hunt.
SPHE
https://www.youtube.com/watch?v=Bk_qU7l-fcU
Mindfulness meditataion for kids
Cosmic yoga is another great on https://www.cosmickids.com/category/watch/.
Mindfulness colouring is another nice activity especially with some music on in the background.
 Religion
Grow in Love Theme 7 – Holy Week and Easter unit pg 59
The Grow in Love program has now given open access so you can view the videos etc there if you wish.
P.E
Get as much fresh air as possible and stay active. Try make your own obstacle course or circuits like we were doing in PE  – move from station to station
Remember these are only suggestions and there are lots of other activities such as baking, making jigsaws, playing cards and board games, building Lego, making junk art/construction projects. These are all important too so have fun.
If anyone has any questions my email address is began@tarahillns.ie  and children can send me pictures of their work if they wish.
Stay safe and enjoy the sunshine . 
Website links are still available on previous post if you scroll down further.
Please also see below suggested resources from the SET – Special Education Team
If you have any questions you can contact us on our school emails – pgrey@tarahillns.ie, hfurlong@tarahillns.ie, rmcgirr@tarahillns.ie
Suggested resources for pupils with SEN
Covid 19- I Can Help by Carol Grey from ncse.ie
Book Creator app
Twinkl for SEN
—————————————————————————————————————————————–
3rd Class suggestions for work to be completed in the event of Emergency School Closure March 12th
Please complete the following work from schoolbooks:
Tables Champion – complete the next 2 weeks while learning the tables.
Finish your Viking Passport research and colouring
Revise and learn all our tables songs – use your sheet to help you.
My Spelling Workbook – learn the spellings in the next 2 units and complete the activities (1 unit per week as normal) Mark your tricky parts.
Read at Home – one page per day as usual and write the answers to the questions in your homework copy. (4 pages per week)
Go With the Flow continue on with the next 4-5 pages of your handwriting.
Continue to read your library book daily for a minimum of 20 mins.
Maths Mate Multiplication 3 pg 38/39 Division 3 pg 40+41    Division 4 pg 58/59
Maths Mate pg 44 In your Head 5
Maths Mate – finish or catch up on any work we have done
Other Activities:
Ask your child questions on what they have read, ask them to predict what might happen next and discuss characters and settings.
Keep a diary of the days you are off.
Encourage your child to become an expert editor – checking their work for capitals, full stops and spelling mistakes.
Practise cursive handwriting – copy a page from a book they are reading in the cursive handwriting style.
Revise the spelling they have learned from My Spelling Workbook and put some of their spellings into sentences.
Bake then write up and illustrate the recipe step by step – procedural writing
Do a project on a chosen topic e.g. a famous person in History or a country of their choice.
Revision of tables. Encourage your child to give quick responses – play games using a deck of cards to multiply, add, subtract etc.
Play card games and board games.
Do riddles and puzzles.
Build Lego and make jigsaws.
Create drawings/paintings or construct small houses, boats etc from old boxes, bottles and containers.
Twinkl is a great site for lots of really good resources and they are offering free access for 1 month due to school closures which is brilliant.
Special Education Team work links below also
Some Useful Websites:
http://www.primaryhomeworkhelp.co.uk/ – great site for lots of subject areas and topics
https://www.prim-ed.ie/contentFiles/SpellingActivitiesC.zip  – to download the activities that accompany our spelling workbook.
https://www.topmarks.co.uk  great games for a variety of subject areas (You'll find Hit the Button here)
https://www.mathplayground.com/
https://www.oxfordowl.co.uk/home/reading-owl/find-a-book/library-page   a good resource with a free ebook library – if you are running out of books at home!
https://www.bbc.co.uk/bitesize    – lots of fun games and activities
Special Education Team – Emergency Work
Below are some really useful websites that you might like to have a look at:
English:
www.readingbear.org – phonics
www.sightwords.com – good for sightwords
www.oxfordowl.co.uk – ebook library and other bits
Maths: